UTEX in Progress 5: deposits with cards and other improvements
Connecting fiat and crypto.
At the end of March, we had a big event going for us: our cryptocurrency exchange UTEX went live. But we are only getting started. This article covers all the major fixes and updates for UTEX to date.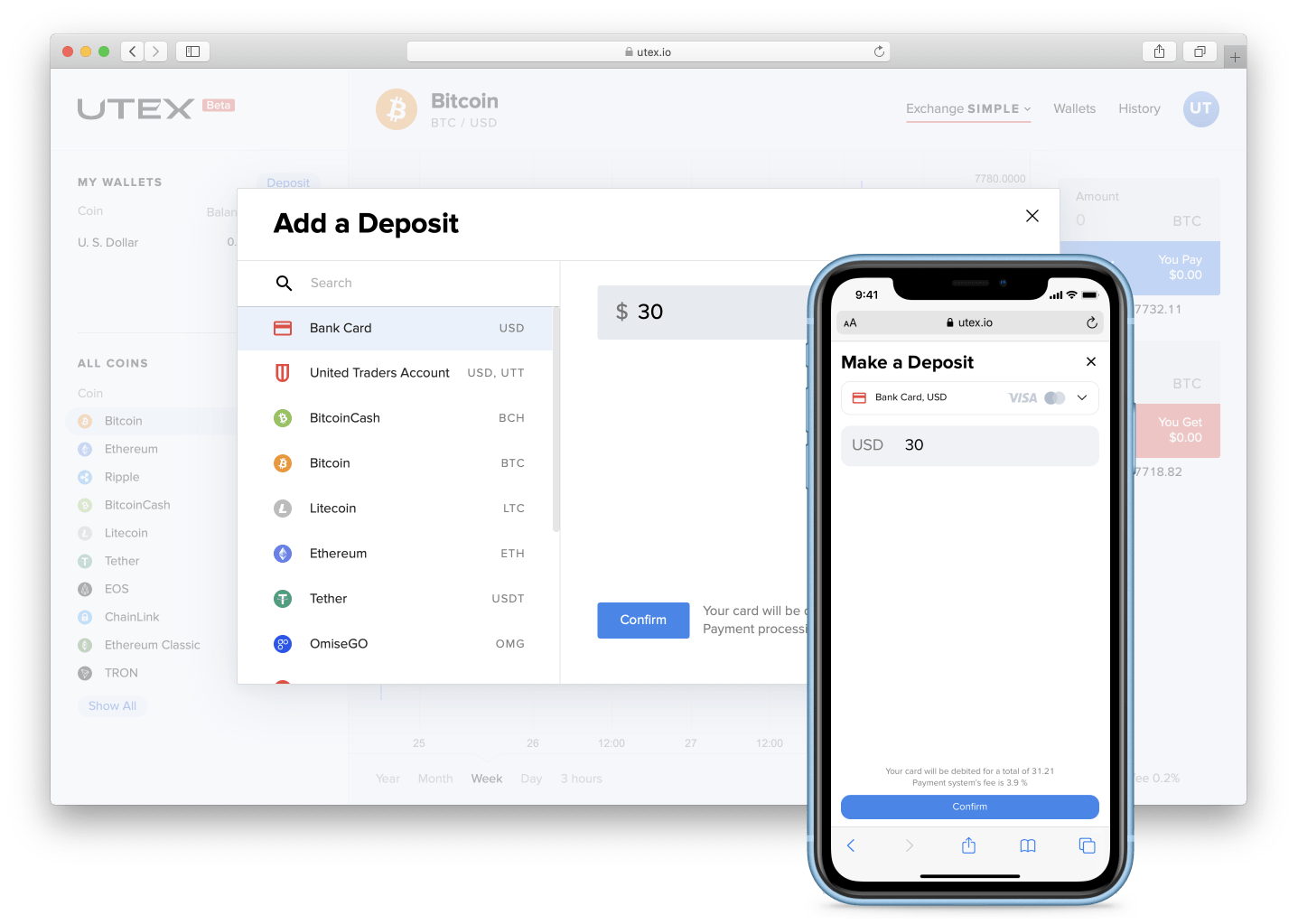 Deposits with card
Now you can deposit your dollar account using Visa and Mastercard cards¹.
You can make a transfer payment if you go to the section «Wallets». Choose the respective option and specify the required amount (at least $10). After clicking the confirmation button, you will be redirected to the payment service page.
This operation is no different from payment in an online store: you need to enter and confirm the details of your card. After the money is debited from the card, it will be credited to the UTEX account.
Trading
The advanced interface is finally open to all users.

Added a TRON token: you can replenish, trade and withdraw it.

Fixed the issue that caused the DOM to appear empty upon the first entry to the advanced interface.

The settings of candle periods and intervals in the advanced interface are now saved when you login to the crypto exchange again. Separate setting is required on different devices.

Now you can minimize the balance block in the advanced interface.

Increased the speed of the window «My Orders» in the advanced interface.

We have fixed the withdrawal of XRP and EOS tokens from Destination tag and Memo respectively.
KYC and limits
At the second level of KYC, the country a user is accessing the crypto exchange from is identified automatically — you no longer have to fill this field manually.

Fixed an error in KYC which caused the status of the application for Level 3 and 4 to show incorrectly.

Fixed the issue that caused some users to experience failed monthly deposit limits updates at the beginning of month.
Language
Translated the desktop and mobile versions of the UTEX website into Russian (in addition to English).
Account
We have set the minimum deposit limits for dollars ($0.1) and UTT tokens (0.01) from the unitedtraders.com account.

The replenishment prompts now show the amount of the deposit itself, rather than the total balance (the balance is shown in the list of coins).

We have solved the issue that caused some users to experience incorrect calculation of the withdrawal limit balance.
Transaction history
This section is now updated when you switch between the «History» and «Processing applications» tabs.

We have added the date of update for withdrawal transactions.
***
If you come across a bug when using UTEX, please report it to the technical support via email or Telegram, and we will promptly fix it.
[button label="Check out new features" url="http://utex.io/exchange"]
1. Not all the countries are currently supported. We will add the full list later.