In progress. Edition 1: UTEX – What's new?
A new section is in place to keep you up to date with the latest upgrades for United Traders products.
United Traders is a technology company, and the quality of our services largely depends on the software development which never ceases in UT. So we're are here with the new section called In Progress where we'll keep you thoroughly informed about all the important updates of United Traders products.
[post id="22649"]
First things first, you'll want to take a look at cryptocurrency exchange UTEX. And while we're still gearing up for the full release, our developers have already rolled out a few exciting elements. The closed beta test is currently underway among our company employees, and soon we'll start inviting regular users. In the meantime, we want to show you the UTEX interface and the features available to every user of UTEX.
Registration and authorization
You register using your email and password.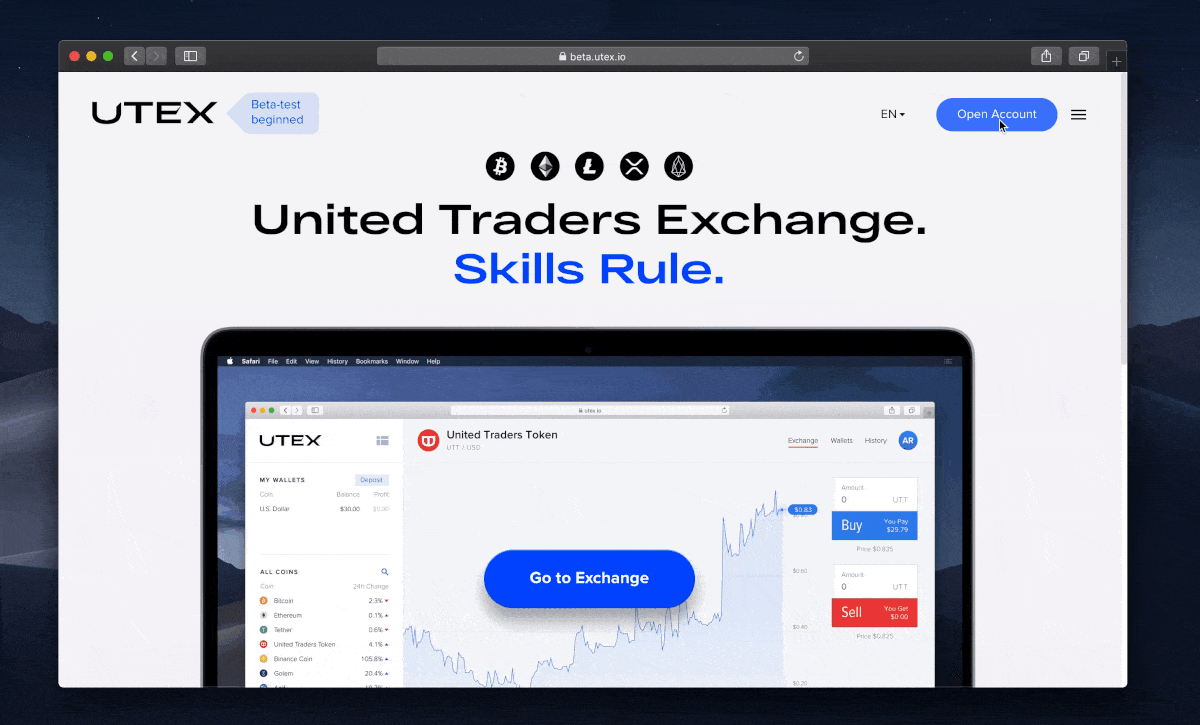 After registration you can edit your personal data: name, email address and password. Password recovery is available. You can also use your profile's data from the UT Investment and Aurora platforms to enter.
Security
We've put in place a two-factor authentication system:
Entering 2FA is optional. You can set up the entry using an additional code you receive via email or the Google Authenticator application.

When withdrawing funds, 2FA is required — via a password to email or Google Authenticator.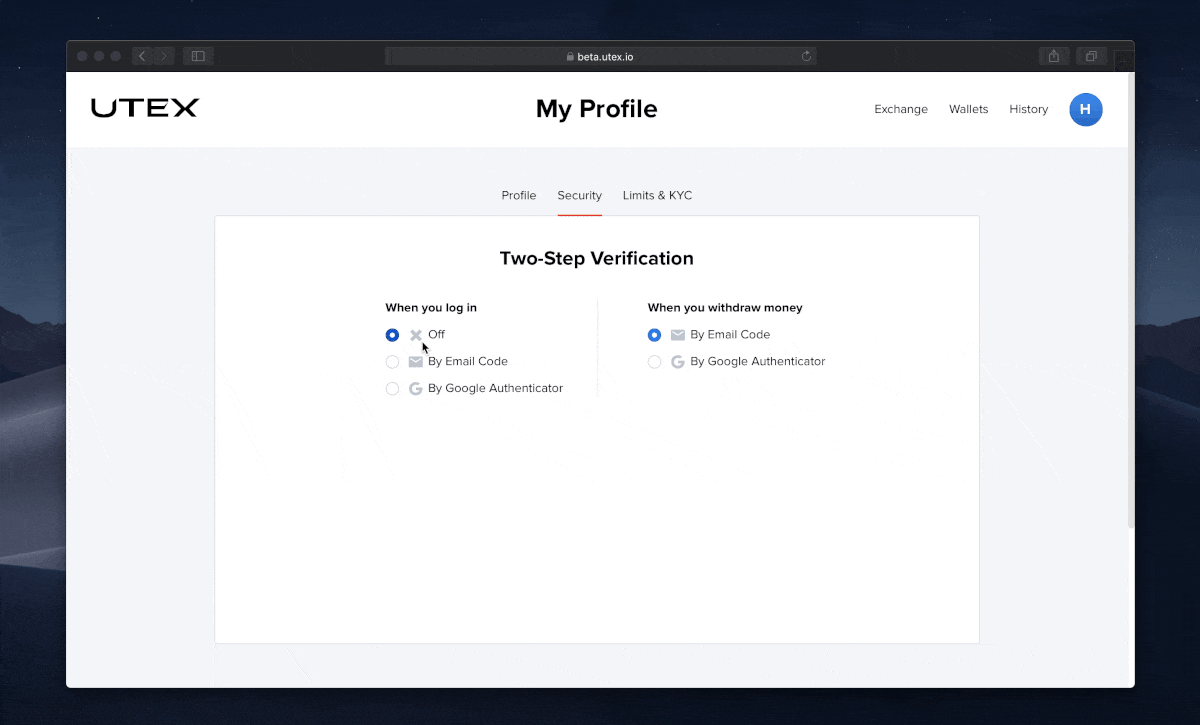 Trading
The UTEX trading system is in combat mode. You can now make sell and buy transactions at the market price for the following assets: Bitcoin, Ethereum, Tether, OmiseGO, Basic Attention Token, ChainLink. Order execution is lightning-fast.
On the trading page, we've added a block that shows the available balance data and fixes all changes.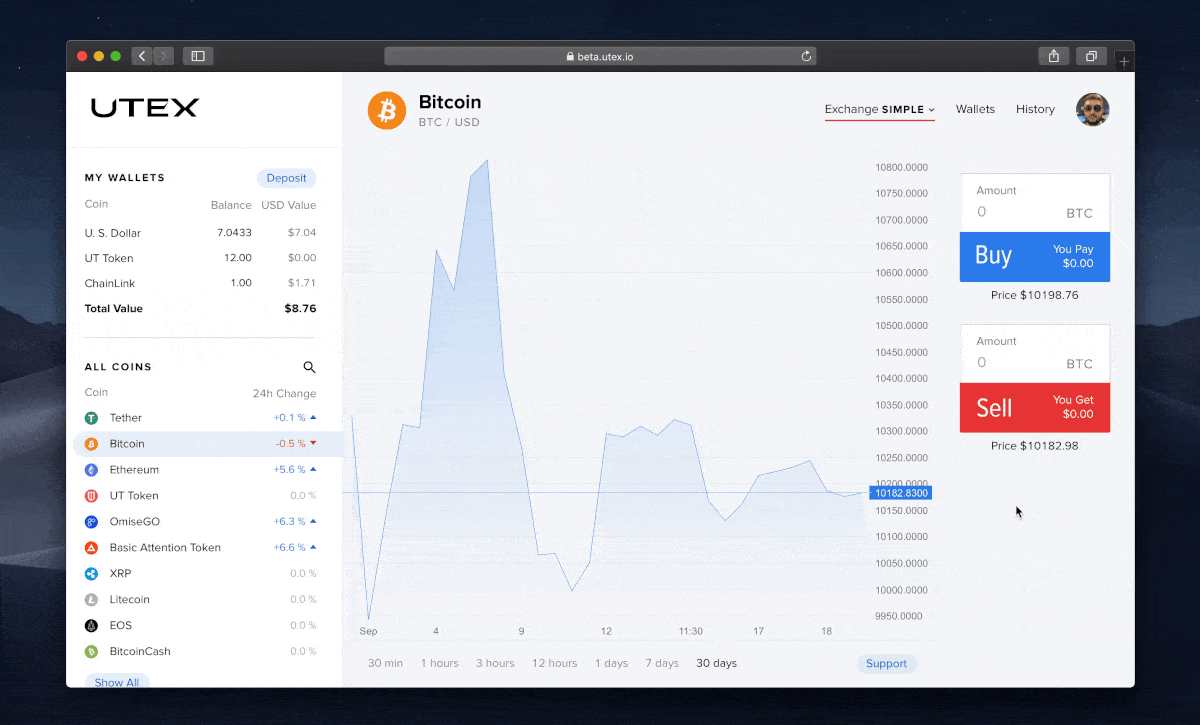 Accounts, deposit and withdrawal
UTEX users can now access a completely functioning section of wallets. It shows the balances in all accounts, their total value in USD, as well as the information on the total amount of replenishment and withdrawals for the month and the balance of the available limit (see «KYC and trading limits»).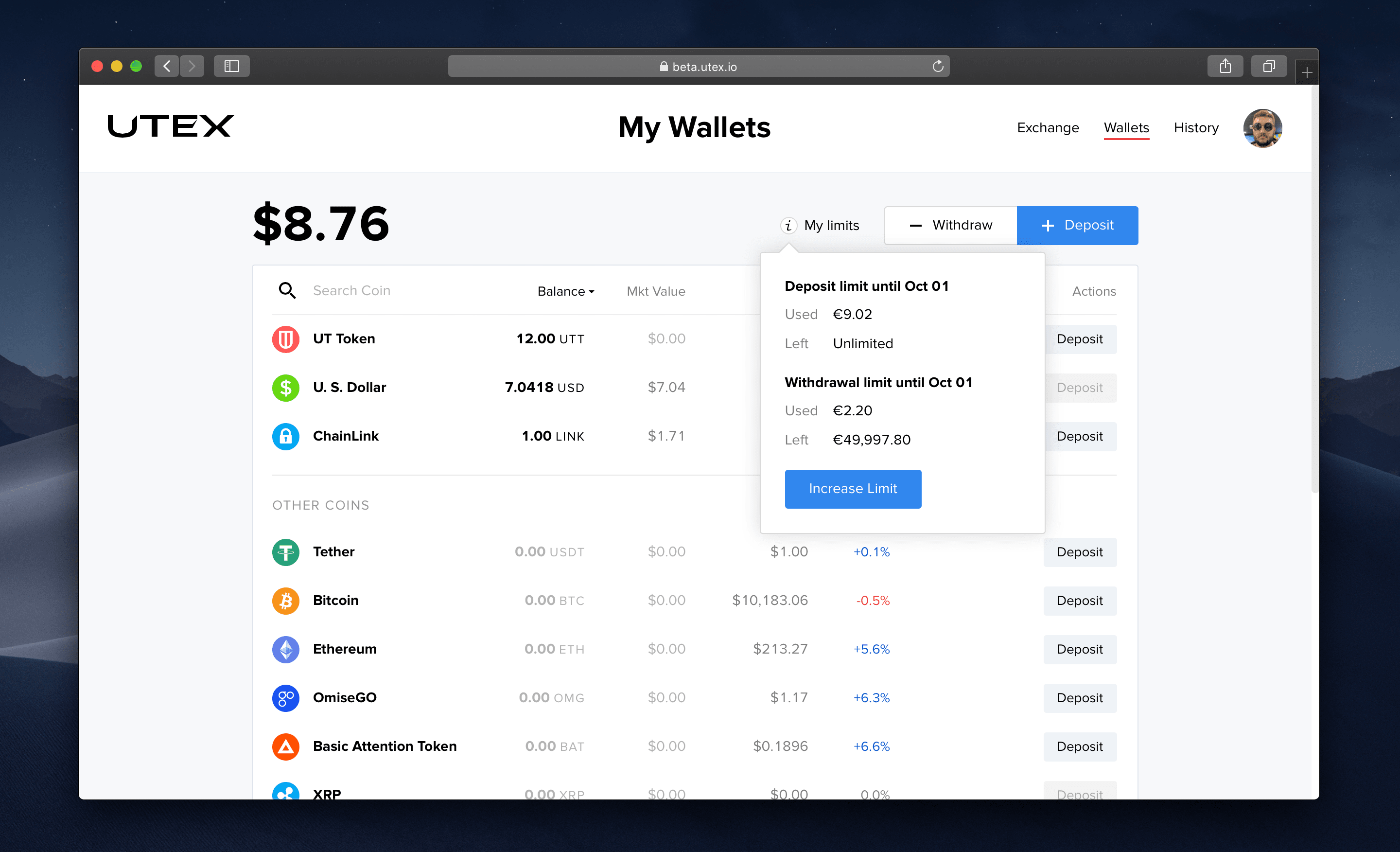 You can deposit funds into your account from the account on the unitedtraders.com platform — with US dollars and UTT tokens or via external cryptocurrency wallets: Bitcoin, Ethereum, Tether, OmiseGO, Basic Attention Token, ChainLink.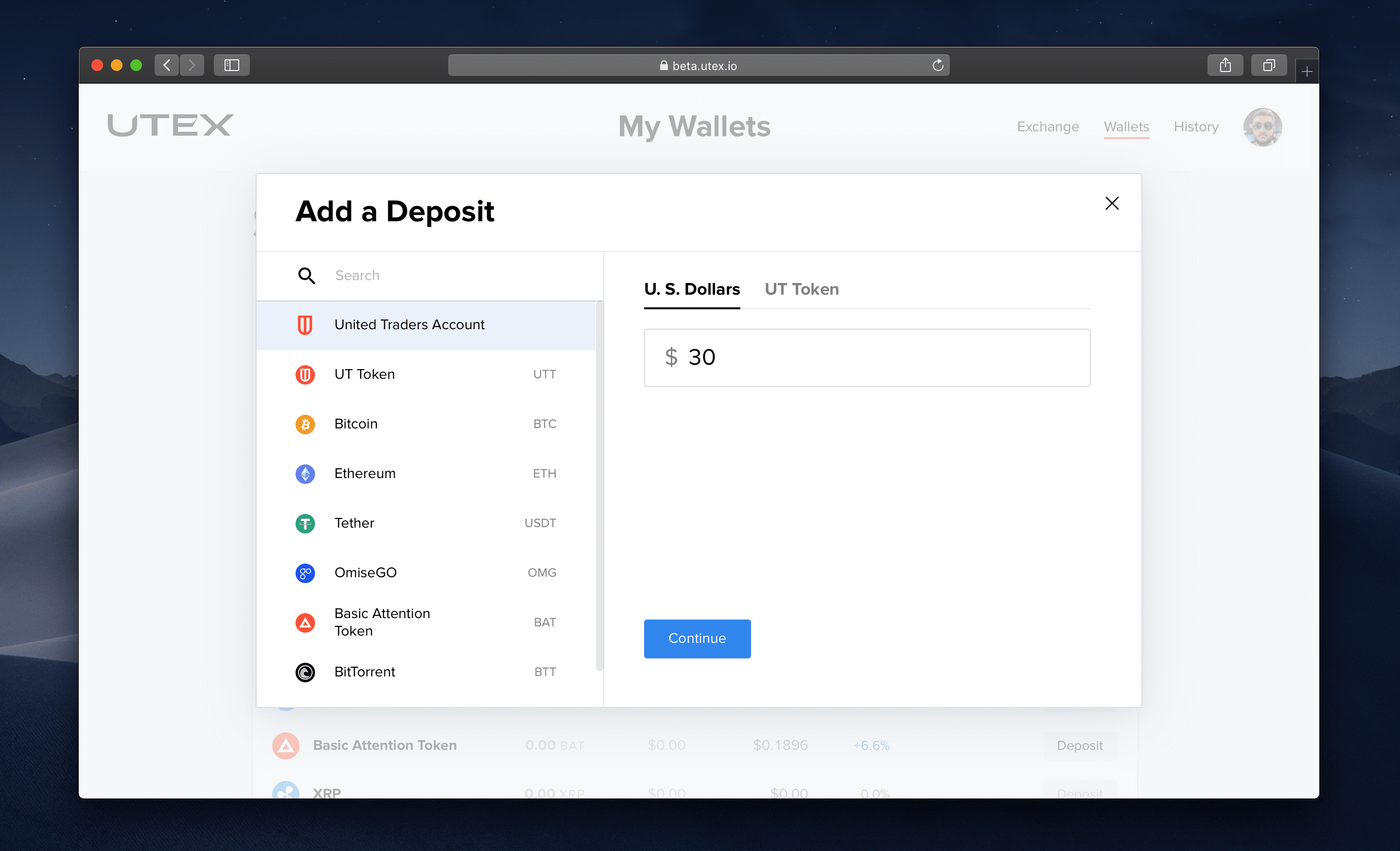 You can now withdraw all currencies.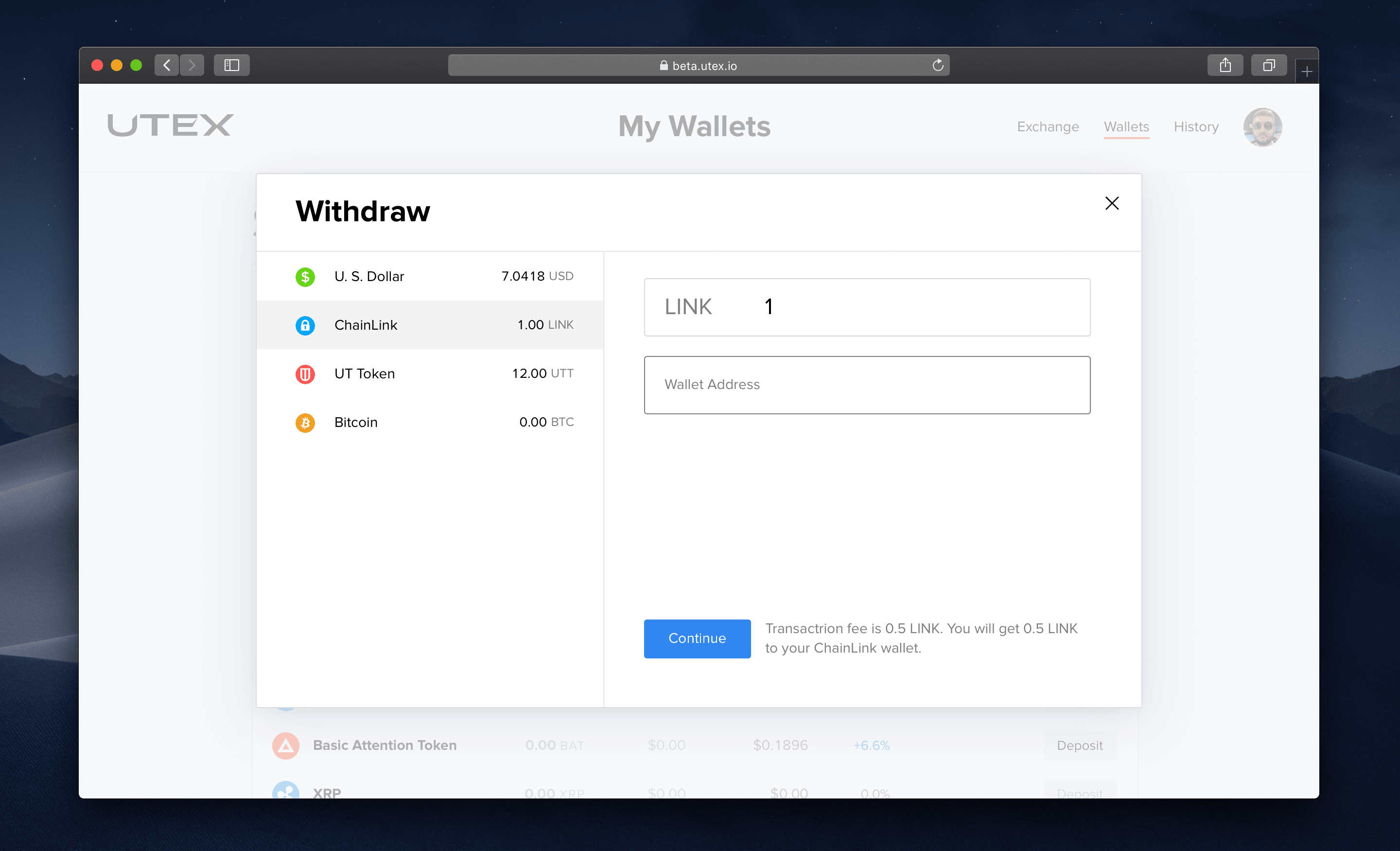 My transactions
My Transactions history settings section is on. It shows all user's operations, their status (buy, sell, deposit, withdrawal) and the details of each transaction (amount and total value). You can filter by transaction type, creation date, and asset.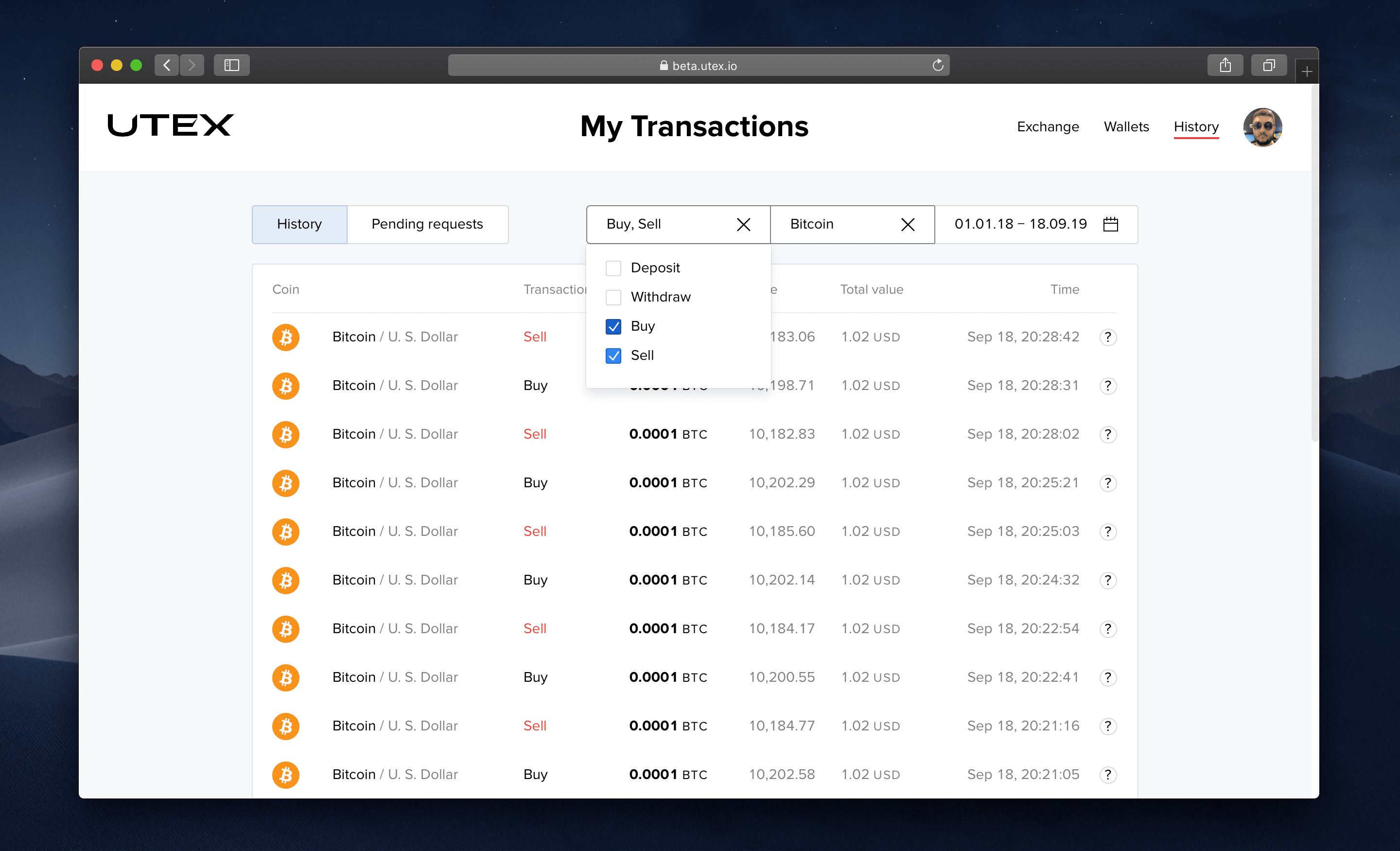 KYC and Trading limits
To trade on UTEX, you must go through the KYC procedure. Users now have got a settings section that displays the KYC levels. The higher the level, the more detailed information the user need to provide, the higher the limit available to them.
The KYC system in UTEX consists of 4 levels. The section of every level shows a limit on the deposit and withdrawal of funds, as well as the documents and information that need to be provided. Upon reaching each new level, a level-accomplishment marks appears.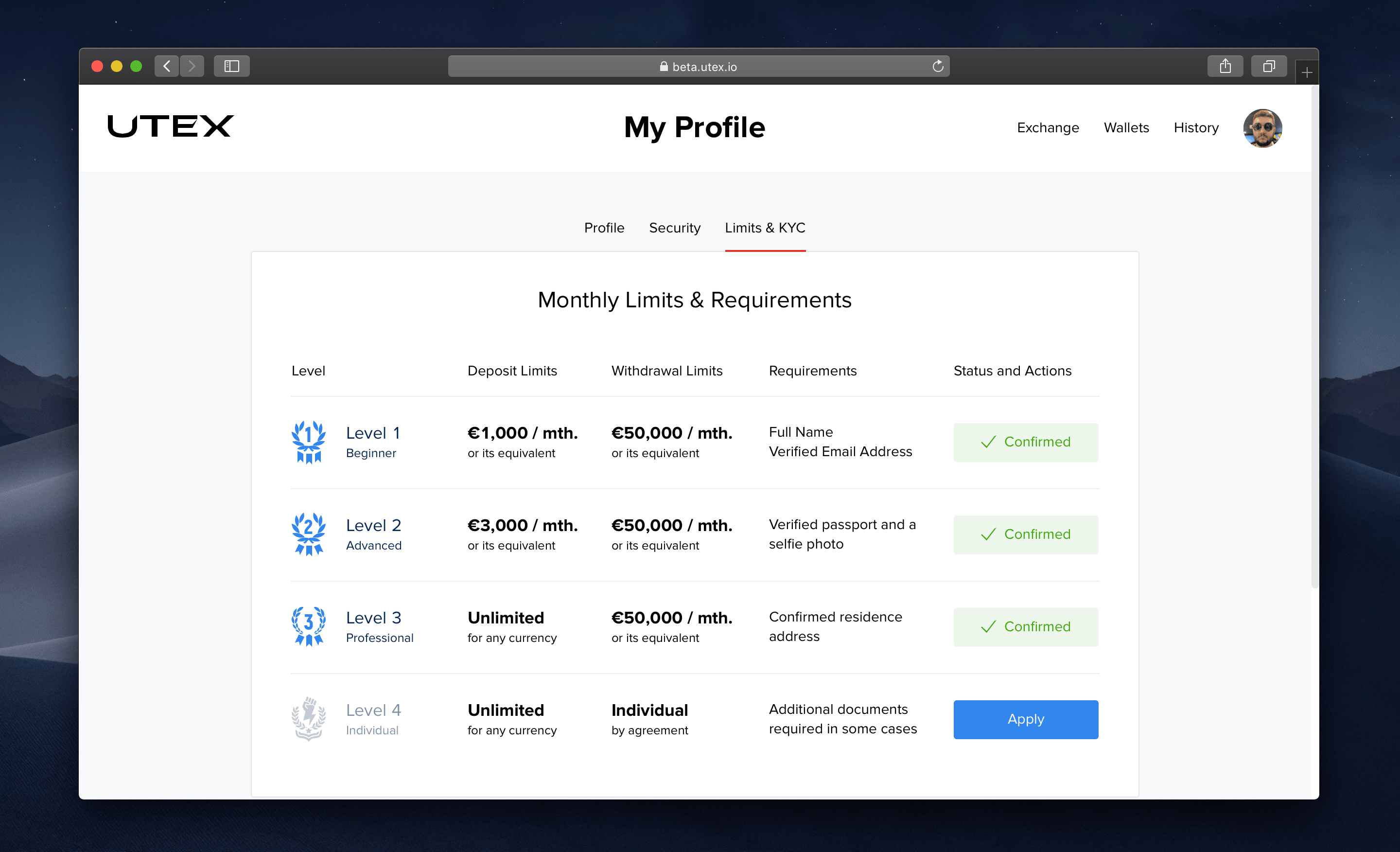 Customer support
You can contact technical support by email or Telegram.
***
In the next update we'll add a mobile version of the UTEX interface, highlighting it in our coming post. We continue to test and develop UTEX, stay tuned. We really appreciate you're staying with us : )
P.S. Please be aware that some of the abovementioned details, for instance, the list of available assets, commissions, trading limits, KYC papers, etc. may be changed before the final release because they are also dependent on our partners and regulators' consent.